Posted by Gabe | Filed under Kink, Random Ramblings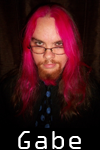 A couple of the fetishes on my list are things like consent, yes means yes and only yes means yes. These are big deals to me. In fact, they're probably my only dealbreaker fetishes. I suppose that makes consent the only true fetish I've got. It is the one thing I absolutely must have in order to play with someone.
Because of this consent fetish, there may be a long time between expressing interest in someone and actually playing with them. Before I can do anything, I have to feel comfortable that the consent that's given is fully informed and enthusiastic. That means talking about what consent means to us, talking about what exactly we do and do not want to do, talking about values, desires, expectations, demands. It means making sure that consent is not just an absence of "no," but the enthusiastic presence of "yes."
This can make things complicated. It means I won't play with anyone who can't or won't have an open, direct conversation about what they want and need. It means that if someone prefers to communicate in hints and flirtations to the exclusion of directness, we're not going to be able to do anything together.
Consent, to me, is so much more than negotiating and honoring safewords. It's about getting to a point where I trust the negotiations are free from coercion. It's about trusting that if consent changes or is revoked in the midst of a scene, that such will be communicated.
I see a world around me in which consent is not valued. Some people are socialized to accept that things are taken from them and others are socialized to take. Some are told to never say "No" and others are told to never take "no" for an answer. Women are often expected to, among other things, rebuff sexual advances even if they welcome them, and to welcome them even if they do not want them. We're surrounded by a million cultural forces telling us what we should do, bending our will. Because of this, consent is a goal to reach under quite strained circumstances. If I'm going to tie you up, spank you, set you on fire, fuck you or engage in any other such delights, I need to know that the "Yes" I get from you is a yes that you mean, not one that you have given under duress, or because you're expected to, or because you just figure you oughta. That's what I mean by "Only yes means yes."
It often feels to me that, despite all the focus kinksters put on consent and negotiation, there's very little addressing how to do those things without coercion. Kinky settings can often lead to an expectation of availability. Just look at how many submissive women have to say things like "I'm a submissive, not your submissive." There's an expectation amongst enough folks that if you're at a party, at a munch, on FetLife, open about being kinky, that you're fair game because, hey, you can always say "No," right? None of that takes into account social pressures, the conditioning that some people have to say "Yes," the subtle ways that people can be coerced, or the effects of an expectation of availability. That's why I like "only yes means yes" as a starting point. It's not enough that someone can say no, that they can reject advances, that they can use their safeword if they need to. A panic button isn't enough for me to call a situation consensual.
So I may go slow. I'll likely ask very specific questions. I'll assume that if we come to a consensual arrangement, that the consent is specific to that time, that place and those specified activities. Instead of saying "If you're not comfortable tell me, and we'll stop," I'll say something like "Are you comfortable with insert specific thing?" and I'll stop unless I get a clearly affirmative answer.
Some folks think that asking for permission isn't sexy. I think that it's what makes what comes next sexy. You know how many times I've asked "Can I kiss you?" I've not yet had anyone who didn't appreciate being asked. You think it's not sexy to get a bottom's permission before each new thing? You whisper in someone's ear "I want to do X to you. Do you want that?" and have them repeat back to you what they want you to do and then tell me that's not hot.
I spent most of my formative young adult years in an emotionally abusive relationship. I had to learn a lot of this shit the hard way, and I know I hurt some folks along the way in doing so. This is what it takes for me to be happy. This is what it takes for me to trust that someone's yes is undoubtedly a yes. This is the best understanding I can get of what it means to negotiate the things we do when we live in a world infused at every turn by patriarchy, by kyriarchy. I love playing with power, but when power is so unbalanced in the world, and so abused, it takes a very serious, deep approach to consent for me to play with power in a safe, useful, respectful and feminist way.
Posted by blessed_harlot | Filed under 30 Days, Kink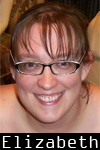 So, we were participating in 30 Days of Kink, and we got as far as this question:
Day 11: What are your views on the ethics of kink?
Our participation then came to a screeching halt for a while!
We searched a lot for a way to address this question in a single post. Our kink ethics are integrated into our sexual ethics, and exploring sexual ethics is kind of our mission statement as a household. It's perhaps the issue closest to our hearts.
On one hand, there's several central tenets of our beliefs that we are passionate and eager to talk about. We continuously explore what it means to be truly body-positive and sex-positive, as we believe they are critical to right relationship. Active, passionate consent is also critical to us, though we both find it problematic to make consent the end-all, be-all of healthy kink or of sexual ethics. Understanding gender, sexual orientation, relational orientation and personal identity as rich, complex, growing entities is at the core of what we do as well.
We are always aware of the effects that a classist, racist, sexist, heterosexist, ableist culture has on our lives. While we make a practice of creating nurturing, life-giving space outside and apart from that poisonous culture, we also realize that our sacred sexualities have been created within that culture. We value the unique ways humans find to unpack these ill effects within ourselves in compassionate, risk-aware ways. And these strategies intrigue us.
And, of course, being analytical and frequently loquacious, we seek out and enjoy most any opportunity to talk about those things.
On the other hand, this is all just way too big for one post among 30. Much of it is too big and embodied for words. This entire website is our answer to the question of kinky and sexual ethics. We are both Christians, as is the third member of our family, and Gabe and I have committed our lives to exploring Christ's love and God's will in our sex lives. We spend a lot of time living this issue in a variety of ways (in fact, I've just committed to a multi-month reading and creative project on this very issue, that will be documented here). Pornocracy is here to indulge our exhibitionist streaks, and to feed others' voyeurism, yes. That folds into the education, witnessing, sharing and storytelling that we place at the heart of our overall ethic. We are of the belief that the great gift of healthy community is that we all hear each other into being every day. We hope to give and receive glimpses of such a gift here.
So, for Day 11 of 30 Days of Kink, this whole website is our answer. We plan to be answering for the rest of our lives.
Tomorrow (or on a similar day!), we will address Day 12, humor in kink.
The questions for "30 Days of Kink" can be found here. Play along at home! We'd love to see your answers here or on your own blog.
Posted by Gabe | Filed under Embodiment, Harlotry, Kink, Spirit Work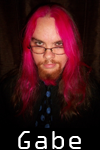 Someone recently started a thread on FetLife title "reconciling faith and kink." I thought my response was telling enough about what it is we do that it merited sharing here.
---
I can't tell you how to find the wholeness you seek, but I can share parts of my own story.
I am a Christian, as are both of my girls. I don't know how traditional most would consider us (Christianity is 2000 years old and contains within it a lot of traditions, yet most often when I see "traditional" used in the context of Christianity it's in reference to modern Evangelical Christianity, which is just not all that old), but what we do works for us.
I believe that God was so in love with his creation that he became a part of it, that his Logos was one with a 1st century Palestinian Jewish man. In him is the most complete revelation of God. The Word is Jesus himself, and everything must be seen in his light. This includes the scriptures. As much as they tell us about Christ, Christ must tell us about them as well. This hinges, of course, on believing that God is still moving and communicating in the world today, that Christ is active and alive and a part of the world around us.
I don't believe that Jesus gave us a sexual ethic to which we should adhere. He gave us an ethic of love and that ethic can be applied to our sexual lives. God has, time and again, shown us his value of these bodies. He created us not as souls inhabiting a shell, but as bodies filled with his own breath. Flesh was so beloved by the creator that he became flesh. Our bodies are beautiful, holy things. Our loves, our passions and our desires are gifts from the creator that blessed flesh in its creation. So then our bodies are not to be overcome, our desires not to be held as corrupt. Instead we look at how we can best listen to those desires and treat those bodies within the ethic of love given to us by God incarnate.
For me that starts with recognizing each person as a loved child and creation of God, as well as a reflection of God himself, and an equal to an inextricably linked to me. ("Truly I tell you, just as you did it to one of the least of these who are members of my family, you did it to me." and "We, who are many, are one body in Christ, and individually we are members one of another.") From that, I honor the person as a unique creation and reflection of the Lord. As the voice said in Peter's vision, "What God has made clean, you must not call profane."
So in any interaction I do not ask myself "Am I holding to the proper list of do's and don'ts?" I ask, "Am I treating this body as sacred, blessed by the creator and of worth equal to or surpassing my own?" If I can answer that with an unqualified "Yes" then I am acting in the ethic given me by Christ.
Posted by Gabe | Filed under 30 Days, Kink
The questions for "30 Days of Kink" can be found here. Play along at home! We'd love to see your answers here or on your own blog.
Day 8: Post a kinky image you find erotic.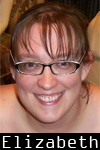 Elizabeth: I Stumbled Upon this and don't have crediting information. I find finger penetration of all kinds to be deliciously erotic, and the blindfold, of course, is… mmmmmmmm! I also very much enjoy the androgyny of the person with the blindfold.
---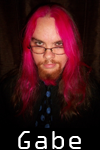 Gabe: I've had this "Human Harp" photo saved for several years. (Link removed at request of the artist.) I likely snagged it uncredited from an imageboard. A little googling tells me that it's by Jim Duvall.
This picture says something about how I approach BDSM. The way I interact with the other person feels very much like playing an instrument. I do my best to elicit the responses I desire. I lovingly and precisely work them over, working with their natures, to create a set of sensations and responses. Topping someone, to me, feels an awful lot like being the player of this human harp.
Posted by Gabe | Filed under 30 Days, Kink
The questions for "30 Days of Kink" can be found here. Play along at home! We'd love to see your answers here or on your own blog.
Day 7: What's your favorite toy?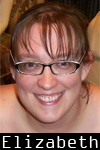 Elizabeth: One of the things I learned as we started our porn blog is that I don't have a high level of hunger for sex toys, lol. Sure, I had my trusty Adam dildo from Good Vibes, who was a steady companion in my single days. And Gabe and I fell in love with Flexi Felix anal beads from Fun Factory the first time we used them. I like pegging, so I like my strap-ons and harnesses, though they're not perfect. As a bottom, I have varying emotional relationships to Gabe's implements of destruction. And now that I top, I am collecting items that give intriguing sensations. But toys have generally been a means to an end for me. Whatever's handy is what we use. I'm probably more emotionally connected to the lube we use (recently ID's silicone lube has been our standby, with Astroglide pinch-hitting when there's a silicone toy involved).
---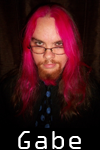 Gabe: If you felt how damned heavy my toy bag is, you'd know how tough I find it to pick a favorite. My shorter, thicker nylon rope flogger is a favorite, as is my crop. I have such an affinity for my homemade toys (like the aforementioned flogger), whether they're as simple as rice filling a tube sock or as fabulous as my discostick (a black, glittery mini baseball bat). For what I like to be on the receiving end of, I adore Fun Factory's FlexiFelix and this one soft, fuzzy scarf of Elizabeth's. I also like my Fleshlight quite a bit, even if I don't use it often. Oh! And Eliz has this delightful, small, pink Tantus cock that feels fantastic in my ass.
Posted by Gabe | Filed under 30 Days, Adventures IRL, Kink
The questions for "30 Days of Kink" can be found here. Play along at home! We'd love to see your answers here or on your own blog.
Day 5: What was your first kinky sexual experience? If you haven't had one yet, talk about what you hope to have happen.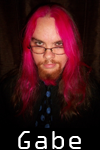 Gabe: There were a few early on that consisted of me really wanting to try something and my then partner doing it, but making it clear she didn't enjoy it. The first full, reciprocated experience was with Elizabeth, the weekend I asked her to be my girlfriend. I punished her for wearing clothes, knowing she was too beautiful to be hiding herself from people like that. I bound her, beat her, made her cry and made her mine. I sent her out into the hallway of the hotel naked and cowering. I loved her. She loved me. It was the first time I'd been so deeply loved as a full person, sadistic fuck side and all. She had me then. And I had her.
---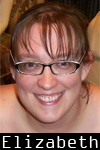 Elizabeth: My first experiences were with a fuck buddy in my late 20's. He tied me up, tickled and fucked me. It was a quite enjoyable set of sensations, and whetted my appetite for more. My first weekend with Gabe, though, took things to a whole other level. The range that we can engage each other on, from emotional to spiritual to physical, overwhelms me.
Posted by Gabe | Filed under 30 Days, Kink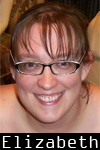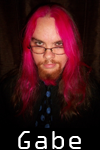 Over at Purveyor of Pleasure Scarlet Lotus is working her way through the 30 Days of Kink writing prompts. That seemed like such a damn fine idea, that now we've decided to follow suit. This normally quiet blog is about to get a LOT more updates as we respond to these 30 questions in 30 days. We hope you'll enjoy reading our answers, and that you'll write about your own life in kink (if you have one) either on your own blog, or in the comments here!
So what will we be writing about? This:
Day 1: Dom, sub, switch? What parts of BDSM interest you? Give us an interesting in-depth definition of what that means to you. Basically define your kinky self for us.
Day 2: List your kinks.
Day 3: How did you discover you were kinky?
Day 4: Any early experiences that, in retrospect, hint at your kinks?
Day 5: What was your first kinky sexual experience? If you haven't had one yet, talk about what you hope to have happen.
Day 6: Describe your weirdest/most interesting sexual fantasy.
Day 7: What's your favorite toy?
Day 8: Post a kinky image you find erotic.
Day 9: Post a kink related song or music video you enjoy.
Day 10: What are your hard limits?
Day 11: What are your views on the ethics of kink?
Day 12: Tell us about a humorous BDSM/kink experience you've had. If you haven't had one, talk about aspects of kink/BDSM you find funny.
Day 13: Explain as best you can what the appeal of kink/BDSM is to you? Why are you drawn to what you're drawn to?
Day 14: How would you say real life BDSM/kink varies from fantasy BDSM/kink? If you haven't experienced real life BDSM/kink how do you think it might differ?
Day 15: Post a BDSM/kink activity you're curious about and would like to try.
Day 16: What are the most difficult aspects of having a sexuality that involves kink or BDSM for you personally?
Day 17: What misconception about kinky people would you most like to clear up?
Day 18: Any kinky/BDSM pet peeves? If so, what are they?
Day 19: Any unexpected ways kink has improved your life? If so, what are they?
Day 20: Talk about something within kink/bdsm that you're curious about/don't understand.
Day 21: Favorite BDSM related book (fiction or non-fiction)
Day 22: What do you think is important in keeping a BDSM relationship healthy? How does it differ from a vanilla relationship?
Day 23: Since you first developed an interest in kink, have your interests/perspectives changed? How so?
Day 24: What qualities do you look for in a partner?
Day 25: How open are you about your kinks?
Day 26: What's your opinion on online BDSM play?
Day 27: Do your non-kink interests ever find their way into your kinky activities? If so, how?
Day 28: How do you dress for kink/BDSM play? What significance does your attire have to you?
Day 29: Do you have a BDSM title (e.g. mistress, master, slut, pig, whore, princess, goddess, ma'am, sir)? What is your opinion of the use of titles in general?
Day 30: Whatever BDSM/kink related thing you want to write about.
Or thereabouts. We'll likely use some as a starting point to talk about related topics instead. We're both really looking forward to this exercise. As we answer questions in upcoming posts, we'll come back and add links to our answers here.
Posted by blessed_harlot | Filed under Age Play, Kink, News, Relationships, Spirit Work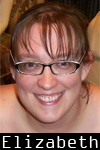 For you were called to freedom, brothers and sisters; only do not use your freedom as an opportunity for self-indulgence, but through love become slaves to one another. For the whole law is summed up in a single commandment, 'You shall love your neighbor as yourself.'
(Paul in his letter to the Galatians, 5:13-14)
I was given my first collar in 2006, by a church in Texas. It signified a bond between us as members of the body of Christ, and their acknowledgment and support of a unique vocational call for me. I had been a hospital chaplain for a few years already, and continued that work in their name for a few more years. As with any symbol that's been around that long, that collar means a lot of different things to different people. To me, it came to mark me as someone in a liminal space. There is a strong differentiation in mainstream Christianity between clergy and laity, that I have never fully accepted. I wore the collar as a sign of servanthood: the education of a leader without the authority over others, the grassroots positioning of a layperson with the devotion that I hoped to find in my fellow congregants. Continuing a long theme in my life, I was "both/and", combining categories often kept separate. I still have the right to wear that collar… though on the rare occasions that I am fulfilling the duties of that role I tend to wear other signifiers, like the collar-like stole.
I didn't anticipate ever receiving another collar, until Gabe gave me one on Sunday, July 18th. This collar is specifically a signifier of a relationship between Gabe and one of my age play personas. So, he has a slutty twelve-year old sub! This collar is first a signifier that Lucy is Daddy's, as Daddy is Lucy's. Lucy has what are perhaps the most impressionable elements of my personality. She has a purity of desire that other parts of me can access through her, but don't embody themselves. When she feels, she feels with her whole self. She is completely centered, or completely swept away; entirely in her strength, or entirely vulnerable… sometimes all at the same time. There's no prevarication, no adult-like tempering of feeling or holding back, no going half-assed. The collar has that purity of devotion to Daddy, and more, without being less full of devotion. The collar reverberates through the rest of me as well, as it does through Gabe. The love he wove into it, and the love I give it as I wear it casts its own spell, and carries its own larger meaning… through us and around us. Symbols are powerful, and carry their own reality… especially when they have their own color, and texture, and weight on a body.
With most labels in my life, it's been easy for me to realize that they apply both to my whole self and to only a part of myself. I am fully bisexual, but that label best describes one specific thread of me. I am fully female, though there are individual parts of me for which that label doesn't make sense. When my vocation was minister, all of me was a minister, though being a minister was not all that I was. For some reason, this dance of the parts and the whole gets frequently gummed up in BDSM. There's a lot of essentialist categorization floating around in the air. For some folks, if you submit or dominate, one of those is all that you are and you are always that. Obviously, there are those who think otherwise. And I believe there are those who want to think otherwise but get a little of this communal gunk rubbed off on their brain. It's difficult to avoid entirely. I think this essentialism is a key dynamic in the "there's no such thing as a switch" meme. It's an inability to hold the paradox of the whole and the parts of an identity. Hard as it is to believe, it's a reality that eludes a Venn diagram. When I am one of my ageplay personas, I am fully them, and they are a deep and authentic part of me. But they are not all of me. When I am subbing to Gabe, I am subbing with my whole self, though my whole self is not submissive. It's the same paradox of being a partner, a friend, a massage therapist, a daughter, an office manager, a Christian, an anarchist and more, all at the same time.
This reminds me of one of Gabe's favorite statements, from Walt Whitman: Do I contradict myself? Very well then, I contradict myself. I am large; I contain multitudes.
Posted by blessed_harlot | Filed under Adventures IRL, Harlotry, Kink, Sexy Vids/Pics
The last couple of months there have been some things stirring. We've got some ideas for upcoming porn… some solo stuff and group stuff, all video-based. Very exciting!
We really look forward to sharing that here. But until then, here's a few pictures we want to show off. Having so many friends active on Fetlife can be distracting when it comes to posting one-offs, or small sets of pictures. Here's a collection of some of our very favorites over the last few months.
Posted by Gabe | Filed under Adventures IRL, Age Play, Harlotry, Kink, Relationships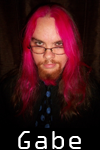 It's taken me a couple of months to write this. Talking about age play and how it works for me makes me feel quite vulnerable, and knowing it's a kink that bothers some folks makes it even more difficult at times. Luckily Elizabeth had another moment of brilliance and wrote some amazing things that helped shake the words loose for me. If you've not yet read Elizabeth on Age Play then please go do so. No really, I'll wait.
Got that done? Well, here's what she helped me to figure out about what it means to be a daddy and to be her Daddy.
---
While not our primary dynamic, being Elizabeth's Daddy and her being my babygirl are important parts of our relationship. Explaining those roles, though, and how they fit into the rest of our relationship feels very elusive. It's just… who we are. And who we are together.
Identifying the energies that we've come to know as her two little personalities came early in our relationship, and we've spent the last 2+ years naming them (Grace and Lucy), fleshing them out and getting to know them. I've learned how to be Daddy to each of them, how to spot them, what they need and want from me, and what I need and want from them. It's been intense and beautiful and amazing. Despite her having multiple littles, I'm the same Daddy to them both. Obviously we interact in different ways, but the energy comes from the same place in me, whichever I'm tending to.
So why age play? The simple answer is that it turns me on. Being her Daddy makes me hard. That's the biggest drive behind it. There's an area of my and of her sexuality that is best reached through embodying these parts of ourselves with each other. Age play was a fetish of mine before I ever got the chance to act on it, though. Before it became this deep part of my relationship with my partner it was an unfulfilled fetish. I devoured Daddy/Girl erotica and I fantasized about roleplaying the scenarios. I understand that for many people age play isn't necessarily sexual, but that's not how it works for me. Even cuddling one of my little girls and watching a silly movie turns me on. Why? Who knows. It makes about as much sense as finding stockings with seams to be hot, only it's stronger because it's the intimate interaction of people.
So what does it mean to be Daddy? As uncomfortable as it may be to say so, I learned how to be Daddy to a large degree from my own father. To be Daddy is to be gentle and loving, offering guidance but only being stern when it's needed. Daddy is playful and loves cuddling, and is protective of the fragile parts of his girls while letting them experience bumps and bruises when they can handle it. All of this is then filtered through my life with Elizabeth and my sexuality and it's become this integral part of my sexuality.
Being Daddy to these two delightful girls isn't something I undertook to re-write earlier experiences in a therapeutic way, but I've also seen ways that it's helped me. I have a strong caretaker streak, and learning how to take care of Lucy and Grace as their Daddy has helped me learn how to do that in a healthy way. I've been able to strengthen boundaries and learn when it's good for me to take care of someone and when I have to say no. I have a long history of unhealthy caregiving, and so this is a special gift that I wasn't expecting when I first asked her what being a little girl felt like.
And I've seen my Daddy persona become more integrated with the rest of me. At times it becomes hard to define, because Daddy is Gabe, at least in relation to Elizabeth. That doesn't mean that she's constantly in little space, or that I treat her like a child, but I'm more aware of my affection toward her, and my protective streak. We could be doing something simple around the house, and I'll tell her to stop if she's about to do something that will hurt her. She may not be embodying Lucy or Grace at that moment, but Elizabeth is just as much my babygirl, and I will protect her.
Beyond our relationship I've begun to identify to some degree as a daddy-type dom. Daddy, as a name and a title, is part of my identity that is, at least right now, linked to my relationship with Elizabeth. The name and title "Daddy" doesn't get used with anyone else but Elizabeth, but I can see similar tendencies in the way I top someone, or even in how I interact with someone with little girl energy. I've even had a play partner refer to me as "Daddy Gabe," and that made sense to me, and was quite hot. Being a daddy-type is more of a descriptor of how I interact with some people. I've been wondering about why I gravitate to that word to describe myself and my style. Obviously it's a very subjective word. In his Toybag Guide to Ageplay, Lee Harrington discusses universal, cultural and personal archetypes, and I think the differences in being Elizabeth's Daddy and being a daddy type have some relation to those varying types of archetypes. With Elizabeth I fall somewhere between the personal and cultural, whereas with what I'm describing with a lower-case "d" daddy is somewhere between the universal and cultural. Sort of. As I said, pinning all of this down is rather elusive.
So then what do I mean when I say "daddy-type dom"? I can't point to specific things I do or expect that make an interaction fall into that category, as it's more about the way I feel toward the person. It's a mix of tenderness, adoration, protectiveness, playfulness, control and certainly a few other things I'm not thinking of at the moment. It's neither tied to nor divorced from SM, though daddying tends to focus a somewhat more on somewhat more conventional pleasures. The D/S element is strong, as my daddy side does put effort into remaining in control. But that control is often more focused on guidance than on punishment, and on the little one following willingly more than on her being pushed too hard. Even the SM elements that have been incorporated have been focused on nurturing, guidance or sheer hedonism more than punishment.
Guiding is a good word for the D/S element of ageplay for me. It requires meeting the person with whom I'm interacting where they are, without expectations of how their own energy will manifest or take them. It is accepting that energy and directing it in ways that best serve us both. Where and how I direct changes depending on who I'm playing with (or which alter ego I'm playing with), the moods we're both in and any goals we may have. Elizabeth recently described that kind of guidance as "a love that doesn't fully shield from bumps and bruises, but very specifically works at a person's growing edges, the edges of our ability and draws us out further and helps us grow." And I think that nails it.
An important element in accessing my daddy side is my trust in the other person's maturity and ability to care for themselves. Being a daddy in an age play context is far removed from being a parent. I don't want someone completely dependent on me. I don't want someone who can't take care of themselves. The littles that play best with this daddy are the ones who are, when they want or need to be, self-sufficient. If someone can balance their childlike delight or teenage awkwardness with their ability to be a grownup when they have to, then we are more likely to find common ground on which we can come together. If I can have that trust they they can and do care for themselves, then I feel more free to care for them myself.
With only two years of daddying behind me, I have a lot more to learn about what that means and how to do best function in that role. How will it change and expand over time or with different people? How integrated is the sweet, gentle daddy with the sadistic fuck who loves his little girls' tears? There's a lot to learn, and I look forward to it all. I love this part of my relationship with Elizabeth and this part of myself. And I'm so thankful to her for helping me grow and develop this way and to get to know this new part of me.