Posted by Gabe | Filed under Naked Blog Boy Roundup, Sexy Vids/Pics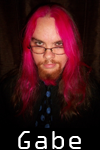 This is going up significantly later than I'd planned. It seems we only got one entrant to the roundup this time. I'd like y'all to meet my good friend Nelson. He writes at Livejournal under a couple of different names, and he submitted a very cool gallery of photos of him with a blacklight.
NSFW – Blacklight
In this time period I also posted my favorite set of self-portraits, so I'll put that back out there as well.
Light/Dark
As Elizabeth stated, the Roundup now comes with prizes! This time we were lucky enough to be able to offer the Blossom Sleeve as a gift from the lovely folks at Babeland. I suppose by default the prize goes to Nelson! I hope you enjoy it, and be sure to send us a review after you've gotten fully acquainted.