Posted by Gabe | Filed under News, Theory Fuck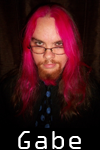 I know, shocking right? Men are just dumb beasts who are aroused automatically, and only by cookie cutter Playboy bunnies.

Turn-ons, turn-offs, desire varies widely among men

Many men said feeling confident and good about themselves often led to feeling sexually aroused (while "feeling scruffy" had the opposite effect). And for many men, a self-confident partner was also more desirable than one who didn't feel good about herself. In addition to a nice body and a pretty face, many men found intelligence "really attractive" and "a big turn on."

Mood and feeling emotionally connected also influenced arousal for men, while a woman's scent was key for some men, but not others. However, an "overwhelming majority" said that being outdoors, for example on a camping trip or having a picnic, boosted their sexual desire and arousal.

Taken together, the findings provide a much more nuanced picture of men's sexuality than is promoted by men's magazines, Janssen pointed out. "There's huge variability among men in how easily they're turned on or turned off, how easily they experience sexual desire and arousal," he explained. "The differences among men and the differences among women are much larger than the average difference between the sexes in almost anything sexual."

In fact, the researcher added, as many as 30 percent of women may be more easily sexually aroused than most men. "This study's challenging the idea that men are simple," he said.
I sarcastically say "Thank you, Captain Obvious!" except that apparently to a huge number of people this actually needs to be said.
One Response to "Apparently men are sexually diverse"
blessed_harlot Says:
August 5th, 2008 at 1:20 pm

"The differences among men and the differences among women are much larger than the average difference between the sexes in almost anything sexual."

I've been saying that for years, and it's amazing the number of people who thought it was a crazy, illogical idea — where "illogical" means "contradicts dubious common understandings of the subject."
Leave a Reply