Posted by Gabe | Filed under Adventures IRL, Harlotry, Reviews, Where in the World are Gabe and Elizabeth?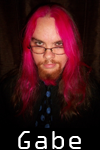 So last week was rough. The hurricane passed right over us, leaving us without power for who knew how long. Not being fans of an un-air-conditioned late summer in Louisiana, we figured out how to just get out of town until things were cleaned up and the power was back. After a week of driving 1.5 cars over 1000 miles, staying with family and visiting friends we were exhausted and stressed about the now dead car, the drive home, what we'd find when we got back and how we'd pay bills after evacuation costs, car repairs and lost wages. We needed spiritual nourishment, and we needed it fast. First we visited our favorite sex shop in Houston, TX (Eros 1207) just so we'd feel back in our own environment for a while. That was quite a help, and there were plenty of toys and accessories to lust after (including a 2009 calendar featuring the gorgeous Belladonna). More importantly however were the free guides to the adult nightlife in the Houston area. After perusing them we decided we'd hit up our first fully nude strip club that evening. The Show Palace was nearby, and had no cover before 9pm. That sounded perfect for us, and it turned out to be just a block or two from Eros.
The Show Palace was a new kind of experience for me. The only other strip club I'd been to before was the local topless bar, The Gold Club, I wrote about a while back and I was struck and delighted by the contrasts of that place with the Show Palace. While this new club is no dive, it's not as shiny and new looking as our local club. The lighting was much lower (both on stage and in the crowd). The Show Palace doesn't serve any alcohol at all, though you're welcome to bring your own. Instead you get to buy a $7 soda for the privilege of being in their club. The biggest difference, of course, is that the dancers at the Gold Club are topless, while those at the Show Palace are topless and bottomless. The most pleasing thing about the Show Palace was the variety of the dancers. The body types ranged from skinny and lithe to chubby and round. There were so many shades of skin and hair. Their outfits went from clingy black dresses to g-strings and barely there tops. And each one of them was gorgeous!
My biggest problem with the place was the lack of lighting on the stage. Even standing at the edge of the stage it was very dim. Talking with one of the dancers we learned that the DJ only worked there sporadically and didn't really know the lighting controls all that well. Of course she also said that having the lights on was good for some of the performers but not for others. That part was a bit sad to hear, as I thought every woman in the place looked amazing.
I do wish I had more recall of the details of the place, but I have to admit that my brain is fried from the week. I know I tipped at least three performers, and I remember two of them. I also remember one who I wished would have danced while we were there. I think I'm just going to write about one, though.
Sophia is tall, a bit chubby and delightfully curved. I had seen her walking around the club and pointed her out to Elizabeth, who squealed "She's my size!" Sophia is the very definition of voluptuous. She has full lips that seem constantly curved into a smile. Her breasts didn't so much peek over the top of her dress as they did explode out of it. Her waist narrows and flows into a soft belly. Her thighs are thick and move delightfully as she walks. Her ass is big, round and I just wanted to take a bite out of her. When she went up on stage we both headed on up during her first song. I felt like I lost track of how many ones I was dropping on stage around her. Her dress was pulled up around her waist and down under her tits and she leaned back and spread her legs for me. Her hand ran over her pussy a few times. The labia were just slightly parted and the small tuft of hair above them was so pretty. She turned through several poses, laying on her side with a leg in the air above her, on her hands and knees rolling her ass in circles in front of me. She was especially good at the boobs in the face move. The other times I've had that done I've either had to take off my glasses or get them covered in makeup. Sophia worked her way up me and kept her breasts under my glasses, rubbing my cheeks with them. It was an excellent move. I can't remember everything she did with Elizabeth, I just remember Sophia nibbling on her ear and the smile on Elizabeth.
She came by our table after her set to introduce herself and let us know we should look for her if we wanted a dance. If I just had the money…
Though the club advertises as "fully nude" how that's implemented seems to be up to the dancers themselves. As I said, some come out in a g-string and a barely there bikini top, and they tended to discard the bottoms and pull the triangles of fabric on their tops to the side. A few actually tossed away everything they were wearing except for their garters and shoes. Those in dresses, however seemed to take a different approach, just doing what Sophia did and lowering the top and raising the bottom of the dress so we could see tits and ass (and, in this club, pussy). I can't keep from remarking that these women were also the bigger ones. Perhaps the curse of chubby girl porn where the women keep their bellies covered is also prevalent in the chubby (or more likely, the merely not-skinny) stripper crowd. It's no secret that I dig fat chicks. Hell, it's no secret that I just adore women of all kinds of shapes and sizes. That includes bellies. So when I saw that fully nude translated to "you can see pussy!" and not fully nude women in all the shapes and sizes that this club had, I felt a little sad. I hope that the scrunched up dress was just a matter of convenience for the dancers, and not a sign of shame. Bodies need to be more celebrated. That means bellies, scars, stretchmarks, birthmarks and all.
I'm sure I'll be visiting the Show Palace again next time I'm in the Houston area. I'll also be asking if Sophia's working. That'll determine if we buy the VIP wristbands. I just think $60 for a private dance from her for the two of us is so very worth it.
The Show Palace has no cover with a one $7 drink minimum before 9pm, but is $25 per person after. Lapdances are $20. VIP wristbands are $10 at the door, $20 after entry with VIP dances being $40. There's no alcohol, though you can bring your own. Because of the lack of a full bar the club is 18+.
Show Palace at StripHouston.com
Show Palace at StripClubList.com
One Response to "Live Nude Girls – The Show Palace"
Curvaceous Dee Says:
September 10th, 2008 at 6:06 pm

"Bodies need to be more celebrated. That means bellies, scars, stretchmarks, birthmarks and all."

I agree with you 100% on this. Bring on the variations that make us all so interesting and beautiful 🙂

xx Dee
Leave a Reply