Posted by blessed_harlot | Filed under Adventures IRL, Harlotry, Sexual Positions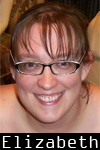 He moved toward the bed and asked what I was in the mood for. As I spread my legs to make room for him, he laughed and said, "That's a clear signal."
Truth be told, I wasn't sure yet what I really wanted. The first thing I knew was, "I want to touch you."
He smiled, and sat with my legs wrapped around him. He moved his hands slowly up my legs, then took one thigh in both hands, stroking up and down. He pressed my leg straight in the air (or as close as I can get) and ran the tips of his fingers up and down my hamstrings. I smiled and sighed. He kissed and nibbled the back of my knee, because he knew it would make me giggle.
As he moved his hands back my thighs, I sighed again.
"Wow, I'm really not in my body."
"How can you tell?"
"Because it feels really good when you do that, and I think, 'Oh, my thighs feel good. I should be in them.' I can tell because it's taking me a while to get there to where you are."
We sat there kissing, and I started stroking him. It didn't take long until I was at his cock… I just find it so amazing and delicious, at every texture it's possible for it to make.
After a few minutes of playing with it with my palm, and then my fingertips, I whispered in his ear. "It's so wonderful. It's like velvet on top of rock. Your body is so freaking awesome." He smiled, and laid back and enjoyed. I remembered a previous conversation — friction on a partially sticky cock is not cool, but a bunch of fluid or bone dry are both nice. So I enjoyed the feel against my dry hand for a while.
"Oops. You're not entirely dry anymore."
"No, no I'm not."
So I took him in my mouth. Oh, the yumminess. I took him in and out, keeping my lips on his shaft. My mouth was watering, and his head slipped past my tongue just a few times before he leapt up and pressed himself down on top of me, pushing me flat on my back.
His kiss took my breath away.
He reached between my legs. I assumed I'd be slow to respond tonight, with the levels of stress we've had. "Am I wet yet?"
"Not much. Let's change that."
He hopped down to put his face between my legs.
The next few minutes are a shimmering, swimming blur. I know he blew his warm breath against my exposed clit, and I know he pressed his whole mouth against me as he looked up and met my gaze. I know I told him once that I had to press my legs against something; he left his head right where it was, and said to go for it. I bucked and pressed, and shivered.
After a while, he asked me where I wanted to be licked, sucked, or anything else I could think of. I had him lick at the entrance to my vagina, to press his tongue against those folds. Then I asked him to lick just above my clit, a place that gets a lot of action when I'm jacking myself off. Then, he leaned in and sucked, hard, moving his tongue all across my clit as he did so. I assented by way of inarticulate moan, and he kept doing that until I came, deep waves pressing taut all the muscles in my thighs and arms. I reached for the wall above my head, and shook.
He pressed his cheek against my thigh and ran his hands along my skin while I rested for a moment. Eventually I sat up, hungry, and groped for him. "Fuck me."
He sat up on his knees while I slid my hips down to him. He grabbed for my ankles to make sure they were on his shoulders, and I gazed at him through the familiar frame of my legs.
He slid his cock inside my pussy, and I delighted at feeling right again.
He soon lay down on me, kissing and nibbling my neck. I kissed his ear, and watched as my arm fell across his shoulder differently than before. He pressed in hard and stayed there. I relaxed, deeply. I marveled at all the familiar curves of his back and ass. I squeezed his cock as hard as I could, and he would thrust in deeper. I ran my nails down his back, and he'd grunt more fervently in my ear.
Somehow, his hair began to fall on me in new ways, shaped the space between us differently. My breathing slowed. His face softened, and he looked at me. Something fluttered in him, and I told him so. "I can see God behind your eyes." He smiled, and gazed at me as he kept fucking me.
He took the longest time for each thrust. Slowly, deliberately, he caressed my inner walls with his cock, pulling out more slowly than I could imagine being capable of, and pushing back in at the same tempo.
There were so much, so many places, so many worlds between each thrust. On one long one pull, as he nearly left me, I whimpered, "No… come back, come back."
"I'm not going anywhere," he assured me, and he pushed fully inside me again.
I lost all sense of space, and felt us transforming, unfolding and refolding with each stroke. Each deep kiss of his cock brought so much with it, I felt myself close to coming. My stoned mystical self was briefly joined by a curious, practical voice, that wondered what this orgasm would feel like… whether to ask him to keep moving slowly or to quicken our fucking. The next time he entered me, he brought a huge wave with him that cascaded up to the top of my head. By the time it passed my eyes and I could see again, his hair fell across my face as he groaned into my neck, bucking quickly into me. I held on for dear life and thanked God for the chance.
One Response to "Shelter After The Storm"
The Best Sex Bloggers » Shelter After The Storm Says:
September 14th, 2008 at 11:20 pm

[…] Crossposted from pornocracy.org […]
Leave a Reply