Posted by Gabe | Filed under Go Read This!, Random Ramblings, Sex Art, Sex Work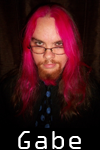 I've only recently become familiar with porn star Sasha Grey, at least as far as I knew (I actually saw her on Tyra Banks' show some time ago). Someone posted a photo of her on a message board I frequent and I had to look her up. I found her series of video diaries on YouTube and found myself intrigued. Then today, thanks to Violet Blue I found a series of videos of her being interviewed while being photographed by Richard Kern. Now I find myself a bit smitten.
Videos behind the fold.


3 Responses to "Sasha Grey"
Nebet Says:
October 25th, 2008 at 8:23 am

Huh. She has long hair!

I think I read an article interview with her a while back. Interesting person.

Gabe Says:
October 26th, 2008 at 7:26 pm

Is the long hair surprising?

She seems pretty cool. I'd like to know more about her.

Nebet Says:
November 3rd, 2008 at 3:00 am

Actually long hair (longer than brushing the shoulderblades) is kind of rare. Hairdressers never know what to do with mine. 🙂
Leave a Reply