Posted by Gabe | Filed under Adventures IRL, Harlotry, Sexy Vids/Pics, Where in the World are Gabe and Elizabeth?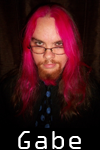 So back in May I went up to get Elizabeth and drag her back here to live with me. Along the way (and once we got home) we recorded over an hour of footage of us fooling around, talking, flashing and fucking. I've never sat down to edit it, though. Last time I posted porn, I had to cut it up into 10-minute chunks so the filesize was small enough for yuvutu. This time though, it's just so fucking beautiful as a whole! I don't want to break it all up. I'm thinking instead I'll release it as a torrent on Empornium or PureTnA. Maybe edit a highlight reel to post for a streaming preview. Of course the last scene includes ageplay and spanking, so I don't know if other sites would want to host it anyway.
What do y'all think of this plan? Would you download the torrent? Can you think of any other effective ways to distribute the best porn Elizabeth and I have ever made?
One Response to "Coming Home Porn"
StacyCat Says:
October 23rd, 2008 at 10:27 pm

I would download the torrent. I also know several people that would be very interested in the age play spanking scene if you did that separately 🙂
Leave a Reply