Posted by Gabe | Filed under Adventures IRL, Harlotry, Sexy Vids/Pics, Where in the World are Gabe and Elizabeth?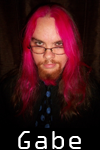 I appreciate the feedback I got recently on releasing the video of our road trip from Ohio to Louisiana. I've found a solution, and now you can download the video for yourselves using your favorite Bittorrent client (if you have no favorite, I suggest µTorrent).
The file is a 614MB mpg, and is 1hr 10min long. At the moment I'm seeding all by my lonesome, so forgive the slow speeds.
We've got screenshots here if you'd like to preview before downloading.
I have to say, though, that this isn't free. If you want to download this home movie of ours, you simply must agree to leave us some feedback here.
Okay, enough with the rambling. DOWNLOAD THE TORRENT!
EDIT: It's also now available at Empornium.
10 Responses to "Coming Home (the movie)"
Leave a Reply