Posted by blessed_harlot | Filed under Reviews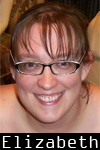 Every girl needs some classic pieces in her wardrobe… or her toy bag. I was very pleasantly surprised this month to have several of my needs met by the long-popular Hitachi Magic Wand that Babeland recently provided for us.
I'm not usually one for strong vibe stimulation. My insertable collection leans heavily toward dildos, and the vibes I do have tend toward varying patterns and rhythms, not heavy-handed sensation. Every body has its own natural preferences and styles of touch, and the intense vibes often just turn me off. So it was with curious skepticism that I ordered the Hitachi.
While I can't remember or find any primary sources for this information, my years-long impression is that the Magic Wand made a name for itself by being reliable, powerful, and rather readily available back when more graphic sex toys still weren't. I know more than one woman who had not had an orgasm until she played with Hitachi's little miracle worker. Most of all, it's versatile. I first used it for back massage, and general soreness and pain relief. It works fantastically for that; it's easy to grasp and symmetrical, for relaxed rolling all over your own back. It has two settings – strong and stronger. Our first several sessions together had the Magic Wand easing some tight spots in my neck and lower back, and it felt great.
Today, Gabe and I popped into the bedroom for a quickie before our grocery run. With him inside me, I grabbed the Wand and began rubbing it all over. On my boobs, it was a delicious humming feel. On my belly it made my whole midsection shimmer with a soft pleasure. With the Wand on my mound, I could feel the sensations across my legs back to my pussy and into my hips… but it wasn't a jackhammer sort of feel at all. The vibes penetrated deeply without being overwhelming. When I finally touched it to my clit, it was intense without being a turnoff. I came quick and hard.
If you've never tried the Magic Wand, it's definitely worth another look. Wand-style vibrators are enjoying a resurgence in popularity, and I can see why. It's great for masturbation, for partnered play, or for relieving tired muscles all over your body.
Check it out – the Magic Wand from Babeland
16 Responses to "Toy Review – The Hitachi Magic Wand"
Leave a Reply