Posted by blessed_harlot | Filed under Adventures IRL, Harlotry, Reviews, Sexual Positions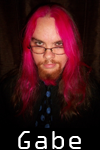 From first seeing Fun Factory's Flexi Felix we were pretty sure we'd have to have one of our very own, so when Babeland gave us a chance to write a review we had to jump on that. Everything about Fun Factory is just amazing to begin with (at this point we have three of their toys, including Felix). The effort that they put into design just astounds me, and the design doesn't stop at the toys! Even the box that Felix came in was cute, and had a magnet-closure fold out panel with a diagram and information about Felix in several languages.
Felix comes in several colors, and even without asking we got pink. Of course, I've not shown y'all my hair in the last month, so you may not know my affinity for the color. Flexi Felix is made from a very smooth, silky feeling silicone, and true to his name is quite flexible. The beads are quite firm, but not without give, and tapered at each end. His smiling face is not just adorable, but functional. His eyes provide a very functional and easy to use handle.
When we first decided to try playing with Felix I suggested that Elizabeth climb on top of me in reverse cowgirl. Shockingly, she seemed rather agreeable to that idea. Once astride with my cock nestled nicely inside her, she leaned forward. I began to lube up the beads for insertion. Now, we rarely use silicone lube anyway, but this seems a good place to remind you not to use silicone lube with silicone toys! It will cause the toy to break down. For anal play we generally use Astroglide Gel, which is water based and thick enough to generally stay where you put it, and that's what we used for Felix. I was impressed by how little lube it took to get him slick enough for entry. The silkiness of the surface of the silicone was nearly enough on it's own! With the first bead nice and slick with gel I pressed it against her ass and it slipped right in. The tapered shape of the beads really does make putting them in a snap. With rest periods between each bead, we eventually worked all five beads into her. She certainly seemed to enjoy the sensations, but I'll let her tell you about that.
Pulling the toy out was fun too (once I got over feeling bad for sticking my fingers through the poor guy's eyes)! The stretchiness of the silicon really came into play when she clamped down on it as I pulled Felix away from her. Each bead just popped out before she'd clamp down again, holding on to the next one.
But you're probably more interested in feeling what it was like from her perspective. Elizabeth?
---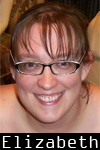 The beads feel amazing. In comparison to the butt plugs or butt dildos I'd used, the beads provide a broader set of sensations. They still give that sensation of fullness when still, or when the largest part of the beads are being pushed in or pulled out. But as the circumference expands and contracts with each bead coming in or out, the muscle around my anus gets massaged from the inside, sending delightful pulses of electricity up the back half of my body.
Having the beads in my ass and Gabe's cock in my pussy amplifies the sense of fullness; oh, it's just amazing. And even when the beads are still, they amplify the feeling of being thrust into. While I was in reverse cowgirl, I was moving my hips through multiple angles, all of which grasped the beads a bit differently, and massaged different spots. My back, neck and head often buzzed with excitement.
We've also used the beads in me while Gabe was on top, and the whole body experience is intense. Gabe has my front half engaged, and the beads send ripples up and down my back. Coming that way is mind-blowing.
I have also now had the deep pleasure of inserting the beads into Gabe. Oh my. Gabe leaned back and played with his cock for a few seconds, while I lubed up Felix and inserted some lube into Gabe. I knew he's had quite a bit of experience with butt plugs… but I knew from my experience with the beads that this is a bit more intense. So I took some time massaging his anus and perineum, and he took some some time to breathe and relax. I took my cues from him and inserted the beads slowly, one at a time, while he got used to them and decided how much sensation he wanted.
I love spending time between Gabe's legs, and this was a whole new way to do it. It is something to learn and feel out, when one is first thrusting a toy into a lover. Learning where my leaning in is comfortable for him… being able to focus on his reactions to the pleasure… being able to caress his inner thighs, and play with his cock and his balls (when he said it would be okay)… just enjoying the view, it was all delicious. Felix has a great feel, in the ass and in my hands. But Gabe can say more about his experience on that end of Felix…
---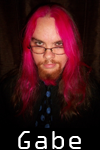 Like she said, I've used plugs before, and I've used a small vibrator a time or two as well (disclaimer: do NOT do that if your vibe doesn't have a flared base), but Felix is completely different. With the plugs the tapering allows you to slowly open up to the toy. The beads on Felix don't allow for that. They do offer plenty of variance in sensation with each bead being slightly bigger than the last and then returning to the narrow connections between them. When Elizabeth began to push the first bead into me she did so slowly, and the shape and the texture felt great. Even though I'd taken the time to relax the strength of the sensations caused me to try to clamp down on the bead before it was far enough in and I squeezed it back out. I relaxed again and she slipped the first bead into me. She took her time and I just laid there and let myself feel. As she pushed in consecutive beads I think my eyes may have bugged out a bit at their widest points, but that feeling of being stretched immediately before being able to clamp down on the next narrow section was amazing. Felix has five beads, and I was able to take four that first night. The tapering of the beads does make for some very easy insertion and some delightful sensations, but I also felt that with four of them inside the first one was just poking me somewhat uncomfortably. Had it been more rounded than it is I think it would have felt more pleasant.
Having the beads pulled back out is just as enjoyable as having them put in. They can be eased out while I'm relaxed or tugged on while I'm gripping them. Each has its own set of sensations. Again the tapering aids their movement.
I've since played with the beads by myself, and was able to take all five of them. Felix is an excellent toy for masturbation. Not only do you get stimulation of the 10 bazillion nerve endings of the anus, but being able to clamp those muscles down on something while jacking off (and especially while coming) feels absolutely delightful. The pressure and fullness they give feels just right to me, and when I came with them in me it was intense.
---
Flexi Felix now hangs above our bed for easy access whenever we might want to play with him. Sure, the toy bag is just at the foot of the bed, but this little guy is so delightful that we didn't want to have to go that far to get him. The only other thing we make sure to keep that handy is lube. He's that good. If you like some fun anal play, head over to Babeland and get yourself one. Then send us pictures. 😉
13 Responses to "The Flexi Felix – Best. Pet. Evar."
Leave a Reply