Posted by Gabe | Filed under News, Random Ramblings, Sex Art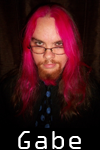 I want to do a zine. The desire to self-publish has been with me for as long as I can remember. In 5th grade my friend Chris and I decided we were going to write a magazine about Greek mythology. We started on one issue, but no one wanted to subscribe to it, so we quit. I've only done two zines in my adult life, but they didn't amount to much. The first was just a collection of news about various injustices that I'd give away at shows. The second was a collection of erotica I'd written, but I hardly sent any out, just one to a friend I'd met on LJ.
And the desire continues, so now I'd like your help in putting one together. I'm asking you to contribute to my effort by writing about your earliest remembered sexual fantasy and sending it to me for publication. It can be as short or as long as you'd like. It can be explicit or full of youthful innocence. It can be whatever you want it to be, just tell me about your early sexual self explorations.
If you want to participate (and you are at least 18 years old, which you'd damn well better be if you're reading this site), send your writings to gabe at pornocracy dot org or comment with them here. If I get enough to fill a few pages, I'll put together a half-size zine.
3 Responses to "Paper Publishing"
Nyx Says:
December 1st, 2008 at 3:34 pm

I must have been about 10 or 11. Still young, still completely unaware of what intimate contact with another person meant. Yet my body was giving me signals, telling me that it wanted… something.

I can vaguely remember my first interest of this kind being the lead singer of a silly kiddie band that was popular back then. They had a song in which the boy would sing to another girl about wanting to spend time together, go for walks with her, all sorts of cutesy puppy love things. That's what my caused my mind to start imagining everything. I'd have daydreams about him lying in the bed next to me, caressing each other, holding hands, kissing. I'd close my eyes and think of him. I imagined him in front of me, and it filled me with a feeling that I couldn't describe then, because I didn't know what it meant, and can't describe now, because I've long forgotten exactly what it was I felt. But I do know that it felt good, whatever it was.

Brief, naive, innocent – such were the first moments to make me see why it was that I liked boys: because doing things with them would be pleasurable. And I liked that thought.

Pornocracy / More zine stuff Says:
December 2nd, 2008 at 5:11 pm

[…] recently mentioned my own desire to do a zine, but earlier today I ran across this and decided it needed reposting here. newstreetyeah posted the […]

Jackie Says:
December 2nd, 2008 at 8:49 pm

hi again, it's jackie. : )

i have an erotic story i wrote a few months ago i wouldn't mind sending yr way. let me know if you are interested.
Leave a Reply