Posted by Gabe | Filed under Go Read This!, Sex Art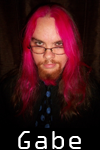 I recently mentioned my own desire to do a zine, but earlier today I ran across this and decided it needed reposting here. newstreetyeah posted the following in the livejournal community zine_scene:
Seeking Submissions for Female Masturbation Zine!

Hello everyone. I suppose the first thing I should do before I go into request/consideration for submissions for my upcoming zine is to introduce myself. My name is Jackie. I am a 26 year old fat queer woman who is a Midwestern girl through and through. I grew up in a tiny town in Wisconsin and went to Catholic school my whole life until I went to college. I went for Women's Studies, Literature in Translation (Norwegian) and LGBT Studies. Obviously if you want to know more about me I am absolutely more than willing to tell you.

I am in the process of starting a zine titled Euphoria: Women in a Climaxing World. It will deal solely with women and masturbation. I want any woman identified woman to give me a short (yet detailed) description of what masturbation does for them, how important it is to their daily life and perhaps what turns them on. I do not want women to feel embarrassed by what they find erotic and by what their fantasies are. This zine is intended for a women audience and it is meant to be a reader for all women who love masturbation and love their bodies.

Another portion of the zine that you are encouraged to participate in but it is definitely not required is a photo of yourself. It could be anything from a picture of you just after masturbating to one just hanging out with your friends or with your family at the zoo! I know for some people you'd rather just be anonymous and not have anyone know what you look like and I totally respect that. I would just encourage you to get over that barrier of being a faceless masturbator and be loud and proud! That is exactly what this zine is about.

What I'm looking for: any women and women identified women. I encourage queer and straight (and anything in between!) women to submit of course. I want a nice cross section of everyone. I want trans people and older women and fat women and thin women and indian women and anyone else under the woman identified woman spectrum. I don't want to be the judge of who identifies as a woman or not because that is not my place. And I don't want to offend anyone, that is not my intention here.

I'd love a cross-section of the country and outside of the United States. I want you to know that I'm a real person and not a creepy person trying to get girls to submit personal moments/pictures of them. To prove it, I have a very active Livejournal and a Myspace with lots of real life friends (haha) and I'm a normal raging feminist who just wants to put out the good word of female masturbation.

If you are interested please contact me at any of the following places. Just let me know if you are interested and once I have a solid group of women put together, I will let you know what the steps are from there. Please only respond if you are really interested. Thank you and I hope to hear from a lot of you!

Here is my contact info and please if you have suggestions of where else I should post about this, I'd be thrilled. Thank you!

Myspace: myspace.com/kuntkontrol
Livejournal: this journal I'm posting in and a community for the zine, look up euphoria_zine and you are there! And feel free to add my personal journal to yours too.
E-mail: jaclynkaters@gmail.com
Facebook: Look under Jackie Katers and I'll be there!

Thanks again!

PS – If there are people who have submitted in the past (since this has taken longer than expected to get off the ground), please contact me! I've kept everything I have received. : )
Please contact Jackie if you're interested in contributing.
One Response to "More zine stuff"
Jackie Says:
December 2nd, 2008 at 8:47 pm

thank you so much for posting this, i really appreciate it. : )
Leave a Reply