Posted by blessed_harlot | Filed under Adventures IRL, Harlotry, Reviews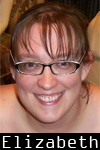 So, Gabe and I took a field trip with our latest toy from Babeland.
We've wanted a remote control egg for EVAR. Our tradition upon entering any new porn shop has always been to look for one. We found a few, but none that cost less than $120. Not being made of money for sex toys, we hadn't gotten around to spending that kind of money, and thus have sadly not had any reviews to share with you.
Now, we have the Cry Baby!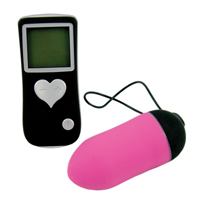 It is a delicious toy, in two parts: 1) a cordless remote, and 2) a "bullet" that goes where you want the vibrations to be. This "bullet" is not the small size of any egg or bullet I've played with. It is 1.5 inches in girth, and about 3 inches long. We thought at first glance that the bullet had that familiar feel of silicone, but it is, in fact, some silky yet hard plastic in a cute pink shade. The remote offers ten different patterns of vibration(!) and is easy to use, though sometimes requires a firm finger on the buttons. The Cry Baby comes with batteries, though only the ones in the bullet lasted long enough to play with.
Yes, yes. But you want to hear more about the field trip, don't you? Well, the Cry Baby would certainly be a lovely addition to any bedroom, where it could rub a clit and/or enter a vagina (not recommended for anal use). But Gabe and I decided to drop the remote in his pocket and the bullet in my panties, and have a night out on the town. We learned the following things:
1) Orgasms go well with fajitas.
2) The range of the remote is at least as long as the longest shelves at Barnes and Noble.
I give this one five stares. I mean, stars. And for its style of toy, the Cry Baby has the very modest price of $69.00.
And don't miss the Cry-Baby themed contest at Babeland! Win a $100 gift card!
2 Responses to "Babeland Toy Review – The Cry Baby"
Pornocracy / Pleasurist #7 Says:
December 8th, 2008 at 3:11 pm

[…] Mia Oh My by Syntax We-Vibe by Amber of Scarlet's Letter The Cry Baby by Elizabeth of Pornocracy Rock Chick by Adriana Cry Baby by Nadia West Odyssey Tickler and Sweet G […]

Femme Fagette | Pleasurists #7 Says:
July 1st, 2009 at 9:18 pm

[…] The Cry Baby by Elizabeth of Pornocracy […]
Leave a Reply