Posted by Gabe | Filed under Sex Education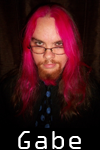 I was recently offering some advice to a young woman who has never had an orgasm. My first question for her was "Do you masturbate?" She said she did not, and said she should probably invest in a vibrator. This was my response:
A vibrator is good, but I'd suggest you hold off on that purchase for now. Try to get to know how you respond to your own hands first. The feel of flesh on flesh is a good thing. Elizabeth says that it's important to have some non-goal-oriented masturbation sessions. Don't set out trying to make yourself come. Just set aside a period of time to explore the way different things feel, what you like and what you don't. Use different kinds of touch in different places. Get to know yourself.

Later on you can invest in a vibrator, and not only will all the non-vibrator masturbation have helped you learn what feels good to you, it can actually help serve as a guide to what kind of toys you will want.

I know it sounds like a horrible thing to say, but be patient, and keep at it. There can be so many impediments to female orgasm, mental, social and even physical. But getting a deeper working knowledge of yourself will go a long way toward getting you to where you want to be.
This seems to be a pretty common question, and I know there are a few clit-bearers who read this blog. What would you suggest to a young woman who has never had an orgasm? What would you suggest to her for getting started with masturbation? I can talk all day, but ultimately I have a penis.
4 Responses to "The Getting Started Guide for Girls"
Leave a Reply