Posted by Gabe | Filed under Adventures IRL, Harlotry, Sexy Vids/Pics, Where in the World are Gabe and Elizabeth?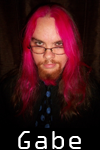 Elizabeth and I wish you all the most blessed and sexy of years in 2009. We started ours off with our first visit to a swing club. This one was an off-premises club, and we had a grand time ogling all the sexiness (and maybe being ogled a bit ourselves) and dancing the night away. Turns out after all these years of not dancing at all that I really, really enjoy it with Elizabeth. She does make me fearless at times.
We did get our picture taken by one of the staff members, so here's us, ringing in the new year.
Of course, we had to take a few pics when we were back by ourselves in the hotel as well. We think you'll enjoy.
2 Responses to "Happy (Half Naked) New Year"
Curvaceous Dee Says:
January 2nd, 2009 at 4:23 am

Welcome to 2009! Sounds like you got off to a great start indeed 🙂

xx Dee

Fred Wally Says:
January 8th, 2009 at 7:55 pm

Happy New Year. First time visitor and I have to say what a hot and sexy lady Elizabeth is. Thank you so much for sharing.

Licks Fred
Leave a Reply