Posted by Gabe | Filed under Go Read This!, Random Ramblings, Sex Education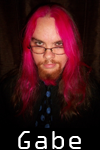 Betty Dodson has gotten a lot of respect in these quarters. That's why reading this from her this morning has me rather upset and disappointed. (Emphases mine)
What do American men have in common with Middle Eastern and Tribal African men? All three societies routinely perform circumcision on boys while the rest of the world does not. In the United States, we circumcise babies within the first few days or week. Muslims do it to young boys who are between 12 and 15 while African boys are between 6 to 10 years of age. In all three instances circumcision is performed without anesthesia! Perhaps Muslims circumcise boys late to insure they will become angry young men willing to sacrifice their life for Allah. In Africa it's a rite of passage into manhood, a warrior who now can kill animals and other men. The fact that the AMA does not support circumcision citing there is no health benefit, I suspect it's the same for Americans: circumcision prepares our young men to go to war. After all, War Inc. has been America's number one industry ever since 1914 following WWI.
Later in the same article she writes:
It's no wonder men hate women consciously or subconsciously. Look at what mothers have allowed a doctor to do to them. First Baby feels pleasure with soft touches that get him partially erect. It feels good until the Doc applies a cold hard metal clamp. The searing pain that follows lasts twenty minutes or more like a sustained torture. May I suggest we consider the similarities between American men and their Islamic brothers or a primitive African tribe?
I'll be the first to tell you that I'm bitter over having part of my dick cut off. That is a decidedly not cool thing to do to a kid (or anyone against their will). It is barbaric and it should be stopped. This is not the way to stop it. Dr. Dodson here equates "Middle Eastern" and "Muslim," then goes on to paint all Muslim men as Islamist suicide bombers. She refers to Africans as "primitive." Both of these are then compared and contrasted to Americans. "We don't want to be like those people" she seems to be suggesting.
Dr. Dodson has certainly done some amazing things. This kind of sloppiness, xenophobia, classism and racism is not among them.
4 Responses to "It Always Hurts To Call Out A Hero"
Leave a Reply