Posted by blessed_harlot | Filed under Uncategorized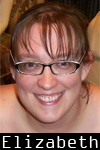 Up until a month ago, Gabe's love life outside of me was mostly stable. It consisted almost entirely of a relationship with his most highly awesome girlfriend (who I like a lot). Now, in the last two weeks or so, there's been big change. He has had:
A) several sexual encounters with a neat girl; I was there for one of them, and I definitely approve.
B) A few nights and many emails of getting to know another girl.
In addition, he got some time with an old dear loving friend and received word that some interest he has in yet another woman is mutual. Yes, it's high time we get him the full pimp suit.
I have noticed that gaining a second and third co-Gabe-lover is a world away from gaining a first one. The first time around was fraught with long-distance angst and worry, first time mistakes and fears, new identity and role issues for me and big questions of the "how are we going to do this?" variety. This time, for me it's mostly about meeting awesome new people, and having fun times.
There's two things I want to talk about, though.
The first is that "feeling special" issue. Yes, I have lots of self-confidence, carefully and proudly cultivated over many years. I know that Gabe loves me for who I am, and I know how complex and powerful our bond is. But there are days when that's harder to remember than others, when one's best self can be slightly misplaced. On those days, it's an easy short cut to put stock in something like "Gabe plugs into music with Red August, and theology with me", or something like that. She has this area, and I have this one. The set of "Gabe lovers that are not me" has undergone a profound change though — it's multiplied exponentially now! So that short cut is harder to use. My choices are, 1) to take evolutionary leaps forward and come to understand more deeply our intangible and unique connection, or 2) find more and new short cuts. I've explained to him that I need a thorough list of shared interests and important compatibilities of each lovely woman he bangs, in order to develop a specialness chart. He doesn't seem eager to get back to me on that one.
The other thing I want to talk about is NRE. Now, first off, you should know that I'm not about to complain about it, at all. From what I hear, I get a fantastic version of New Relationship Energy from Gabe. There is no sense of redirection away from me in our household. Gabe just gets giddy. And happy. And has pretty pictures of pretty girls to share with me, both literal and mental. It's a kind of high that I can groove off of too. I'm starting to think it may be more than just a high, though. I have felt myself on some level picked up and shoved a bit, by this craving for new beginnings. I've wanted to leap into newness… but I didn't have any new beginnings handy. While this has been frustrating, I believe it's also ultimately shaping some personal growth for me into new areas that will be very valuable.
(Ok. I noticed a third thing. One kind of jealousy that Anita Wagner covers in her awesome jealousy handout in pdf form is an important kind to know about in any romance. It so happened that my partner had a kick-ass wonderful week last week. In this case, it was because of hanging out a lot with two new, beautiful women in his life, but it could have been good news at work or good fortune in some other area. I, on the other hand, had a rather completely shitty week. No, I don't begrudge him his great week; I'm truly glad he had it. But a lesser person than myself might say that it certainly highlights how the universe was dumping big honking sucky rocks on me. I wouldn't do that, certainly, but somebody else might. That person might find it handy to unpack what kind of jealousy they're feeling, and how to live with it.)
7 Responses to "Two things (of which there are three) about a partner's new lovers"
Leave a Reply