Posted by Gabe | Filed under Adventures IRL, Harlotry, Kink, Sexy Vids/Pics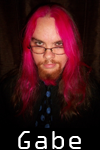 You know a weekend was good when you want to write about it, but it's Wednesday afternoon before you even try, and the next Monday before you finish the first part. Hell, even with all the Twitterers who were there, next to nothing got tweeted!
Halloween, in addition to being the most awesome holiday evar, is my birthday and for the first time I had a big celebration of me with my friends and chosen family. Much planning went into this event, and it paid off. Many thanks to my dearest Elizabeth for working so hard to put the shindig together. She sent out the invitation emails, coordinated all the special needs, planned how to share space at our house with all of those people, and a dozen other things I won't list. And I did end up surrounded by awesome people and bathed in affection. There were many hugs, kisses and cuddles, as well as staying up talking until 4am. I don't remember the last time I had an actual birthday party, so it was really special to have this and to feel so very cared for.
As the first night of the two-night party was the first big gathering of friends we've hosted at our home, it was also the first time we've invited people to participate in kink and sex in space we provided. While it didn't devolve into an orgy (believe it or not, that was a good thing) I know I certainly had a good time!
In preparation for Friday's party I made four ice dildos. Over the course of the week I got to watch Elizabeth go from very hesitant to very intrigued so it was quite a treat to use one on her last Friday night with friends holding her hand and cheering her on. She took more than I expected, but the way she warmed up to the idea (pun intended) over the course of the week should have told me she was going farther than her initial hesitance indicated. You can see the pictures here. I'd love to get the video up as well, but there are many different faces and voice on it, so getting all those permissions may prove difficult. I hope for your sake we can do that, because she's really quite adorable getting fucked by a big ice cock.
But what of the other three dildos? Well, turns out I had three more volunteers! The first was a dear friend who said that her participation was a birthday gift to me. She was actually the first person down on the blanket to try. It was my first time using ice in such a way, and she was an amazing test subject. While I don't think she'll be returning for another go anytime soon I do think we had a good time of it. The second participant was a surprise to me, someone I don't know well, but who apparently likes ice quite a bit. The third in the lineup was Elizabeth, about whom I've already written, and being able to work up to her and get a feel for the toys was a delight for me. And the fourth dildo went to a friend with whom we've been having some amazing escapades. I think of all the people who tried my homemade toys she liked them the best. At least it seemed that way when she clamped down on it so hard it shot right out of her. There wasn't all that much ice left by the time we were done! I had a fantastic time. Not only did I get to play with some people that are quite important to me, but I also got to engage in casual play with someone I didn't really know well, and that was a first for me! So Friday was a big night.
Next time – Saturday in New Orleans!
2 Responses to "Gabe's Birthday Weekend – Part One"
Bzero Says:
November 18th, 2009 at 4:55 pm

Wow! Looks and sounds like a lot of fun! Definite ideas for my next birthday..

painpix Says:
December 8th, 2009 at 10:54 pm

i can't wait to try an ice dildo! It just looks like too much fun! 😀
Leave a Reply