Posted by Gabe | Filed under Go Read This!, Sex Work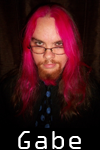 Here's a gorgeous post by Hobo Stripper:

I tell him it's eighty to touch, and he hands me a hundred, his last hundred. I tuck it into my stockings quickly and slide into his lap as the song starts.

"You don't have to," he whispers. "You don't have to do this."

I sit in his lap and play with his hair, stroke his face, make faces like I'm going to kiss him, until tears come to his eyes. Yeah, God has some human in him. So I snuggle up and wrap my arms around him and pull his arms around me. "You don't have to," he whispers again.

"Hush, I want to," I tell him.

When we emerge from the VIP room he's smiling.
Go read the whole thing. It's beautiful.
Leave a Reply