Posted by blessed_harlot | Filed under Adventures IRL, Harlotry, Sexual Positions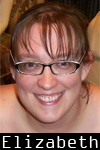 Gabe and I will soon be heading out to Houston for the weekend to see family and friends. We'll be staying at my Dad's house, so my expectation is that we won't be updating our porn blog for the next couple days.
But before we go, let me tell you about this. A few nights ago, Gabe and I were both in need of the laziest possible sexual position we could find! After a few seconds of yummy 69 licking while laying on our sides, Gabe stayed in that position, while I got on my back and threw my legs over him (one leg over his hip, the other over his knees). He slid his cock into me and ooooohhhhhhhhh, it was so very nice. It worked better if I picked my knees up and bent them a considerable amount, resting my heels against him instead of my calves. The angles were delicious. We both had intense orgasms with minimal physical effort. You can't beat that!
One Response to "New Position and Weekend Update"
Ellie Says:
July 11th, 2008 at 11:47 am

As they say. . .

Pics or it didn't happen 😉
Leave a Reply