Posted by Gabe | Filed under Harlotry, Sexy Vids/Pics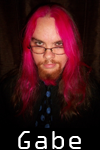 You may have noticed that most of the photos we post here are of Elizabeth. Mostly I'm okay with that, because damn. She's hot.
The bigger issue, though, is that most of the time I really have no idea how to present myself in photos in any sort of erotic way. All of the examples of male eroticism in images at which I can look really don't feature anyone who has my body type, nor my style. So if you have any insights into what works for a guy like me, and what kind of pictures you find hot, please leave me some comments.
For now, though, I've pulled up some photos from several months ago. Elizabeth and I took a bath together, despite being nearly 1000 miles apart. I lit some candles and filled the tub with warm water, turned on the speakerphone on my cell and proceeded to have a nice long soak with my beloved. I took these pictures then, and I'm really rather pleased with them.
Bath Time
One Response to "Bath Time on Half-Naked Thursday"
Ellie Says:
July 17th, 2008 at 8:13 pm

Okay, first of all, these are hot photos. I love your body type and want to see more pictures of men like you.

Second of all, AWWWW. You two are so freakin' cute.
Leave a Reply