Posted by Gabe | Filed under Harlotry, Sexy Vids/Pics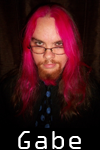 I was out on a date last week, and Elizabeth decided to find some mischief into which she could get. Grabbing the video camera and an old silicone friend of hers, she set to making us all a movie. I've put it up as a torrent on Empornium for you all to download and enjoy. I recommend enjoying it with some lube handy.
Not only is this video immensely hot, it's also everything that I think the best porn can be. Elizabeth creates a direct connection with her audience, talking directly to us, and presents herself with a depth of intimacy rarely seen in sexually explicit video. She inspires me to be better. She also inspires some amazing orgasms. Watch and see.
Download "No Idea" from Empornium here.
Leave a Reply