Posted by Gabe | Filed under Adventures IRL, Harlotry, Sexy Vids/Pics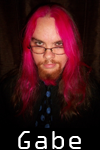 Take two hippies, who happen to be exhibitionists, and make their date consist of buying a new camera and some body paints, and this is what happens!

Speaking of being hippies, Eliz and I are headed off to Bonnaroo this week! If you see us, say hi! We love making new friends.
3 Responses to "This is what date night is like around here"
Curvaceous Dee Says:
June 23rd, 2010 at 6:34 pm

What awesome photos! Looks like you both had a marvellous time 🙂

xx Dee

Nelson Says:
June 28th, 2010 at 6:10 am

Oh that is just lovely! 😀

stoat Says:
June 28th, 2010 at 11:43 am

what a beautiful, radiant body…love the blue on you.
Leave a Reply