Posted by Gabe | Filed under Go Read This!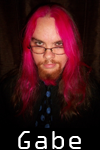 I love bodies. I love all sorts of bodies. I love the bodies of the people who surround me. I love the bodies of the people at the grocery store. I love the bodies of the dancers at the strip club. I love bodies. Each one is a gift. Each one is unbelievably amazing.
I've come across several blogs that seems as though they want to communicate that same love. I'll share them in the order in which I found them.
The Thickness: "an appreciation blog of chubby/thick women and their sexiness." The Thickness focuses on celebrating a particular set of bodies, one that is often devalued in the popular discourse. It's a mix of pro models and user submissions and reading the messages that come with the user submissions it's easy to see the impact that this celebration has on people. It's amazing and beautiful and you should add it to your reader.
Ordinary People is a mix of photos found online and user submissions, and it features… people. All sorts of people. All sorts of body types. The people here are the ones you see every day. It's full of bravery, nervousness, boldness, pride, acceptance, sexuality and what the site owner terms "ordinary people."
Everyone Should Post Nude Once is a new blog full of user submissions of full body nude photos. People can email their photos to the curator and have them posted anonymously. There are some specific rules to keep the blog on the safe side of pornography (no erections, no touching of genitals) which I find somewhat disappointing, but I appreciate the project nonetheless. The curator says "This blog is to celebrate the human form, and let people get over their inhibitions when it comes to nudity." I'd love to see more variation in the shapes and sizes represented there, but that's up to us to join in and start sending in our own pictures!
So yeah, I love bodies, and while I don't often use "should" language, I really think you should love bodies too. I don't think, looking at these three sites, that anyone is able to do anything less than love the bodies shown.
Leave a Reply