Posted by blessed_harlot | Filed under Sex Art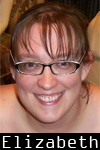 Gabe and I sat in Books-A-Million yesterday, perusing a very large book of erotic photography. It had some diversity of style and theme, and we enjoyed looking page by page for probably over a hundred pages.
Then, I suddenly began to feel left out and angry. None of the models to that point were more than 140 pounds in weight, with the exception of one set of photos of elderly women, some of whom were overweight. I don't know whether it was only my perception or not, but that set appeared to have an element of farce about it. This isn't anything I'm not used to seeing or feeling. It doesn't happen as often as it used to, but it does happen. I hadn't seen me, or most of my friends, anywhere in this book.
I spoke my feelings aloud, and then Gabe really opened my eyes. He commented that he felt the same way. This was exactly what he's been grappling with, what he keeps trying to post about, only the words haven't yet come. What he's been saying really sunk in, and I really got pissed. I know now where to go to find porn with sexy, geeky, round girls… women that look like me, or look kinda like me… bodies that are not only beautiful, but also remind me of my beauty in a very visceral way. But I don't know where to look for porn made of guys that are familiar to me. I don't know where to find nude men that don't look like advertisements, that don't look like they're intended for gay male consumption, that don't look like they've spent a greater number of hours in a gym than they have sleeping. I don't know where to go to find pictures to share with Gabe, that I know he'd enjoy as bodies kindred to his, that inspire him to get naked and get the camera. I want naked guys that have humor in their eyes, that have yummy soft lines along with the meaty boy musculature, that look like they could talk about body theology or comic books while we fuck. I want to look at a picture of a dommy guy, and think that he's interested in discovering exactly how to dominate me. I notice now that the idea continues to be so foreign, that I lose contact with my deep craving for it.
I haven't found anything close. Can anybody point me in that direction?
3 Responses to "Erotic Male Nudes"
Ellie Says:
July 28th, 2008 at 2:25 pm

This post is heartbreaking because it is so true. I don't know what to tell you. Bear porn? Seriously, the outlook is bleak. So I know that Jay and I make our own and I love taking pictures of him. You guys keep doing the same thing, okay?

blessed_harlot Says:
July 28th, 2008 at 9:16 pm

Thanks for the affirmation, Ellie. It is a painful situation. I hate seeing Gabe have to deal with it.

It does seem that the only answer we'll get is that we need to keep doing what we're doing. Oh, the sacrifices we make for the world!

Pornocracy / Third Time's a Charm Says:
July 29th, 2008 at 10:41 am

[…] is the third time I've tried to write this post, as Elizabeth alluded to earlier. It's turning out to be very difficult, both because there's a whole series of related […]
Leave a Reply