Posted by blessed_harlot | Filed under Harlotry, Reviews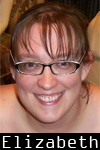 Gabe and I are picky about our lubes. In fact, on the rare occasions my pussy needs extra fluids, we only have one thing we really use – regular Astroglide. It feels like nothing, it doesn't get sticky, and we've both been using it for years.* Of course, being a Houston girl, I have to say I have some brand loyalty to the sex lube that NASA invented.
But lately we've been looking for a good anal lube. We used ID Millennium for a while, which is quite a good silicone-based lube. But since it's silicone, it can't be used with silicone toys, as it degrades the material in the toy. We did get exploratory, and buy a bunch of sample envelopes of new lubes. We also bought some Astroglide gel, another water-based lube from our buddies at the Astro-lab. As it happens, the gel was what was easiest to reach when I asked him to fuck my ass about an hour ago. The Astroglide gel was inconspicuous, hanging out right where we put it and staying there through thrusting and position changes, and it left us a nice amount of friction. It was also much easier to clean off than the silicone stuff was. We had tried it previously for pussy insertion, but it was just too gooey for that. Backdoor fucking, however, is apparently its main calling in life.
I suspect we'll get around to the samples, and let you know about those. But as far as I'm concerned, we have our new go-to lube for anal. Go Astros!
*Astroglide is glycerin-based, and should not be used by those with a tendency toward getting yeast infections.
Leave a Reply