Posted by Gabe | Filed under Mono/Poly Resources, Random Ramblings, Relationships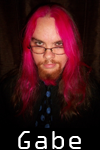 For the last day and a half I've been trying to figure out how to address this adequately, and coming up short, so I'll just say it like this..
Mistress Matisse fucked this up royally.
A recent Stranger column by Mistress Matisse attempted to tackle the phenomenon of mono folks dating poly folks in order to change them, to rescue them from their wayward ways and live the romantic story of loving someone so hard that they became who they "should" be. I've seen of this kind of thing happen. It's disrespectful at best and damaging to a person's psyche at worst. It's something that needs to be addressed.
Unfortunately Matisse did so terribly, and in the process insulted a lot of people.
She starts off describing monogamous "cowboys" who date poly folks to "persuade them to sever existing relationships and embrace monogamy," but then paints every mono person who dates a poly person as one of those people.
Instead of speaking of cowboys and cowgirls, her language drifts into "monogamist" and "someone who is clearly monogamous" while still attributing the cowboy behavior to them.
She says
Viewed through a monogamist's gaze, dropping your lasso on a wandering heart is the stuff of songs, literature, and drama.
Not "through a cowboy/girl's gaze," which would make sense. She's now expanded the manipulative behavior to all mono folks. So us poly folks are the fodder for the romantic fantasies of those monos, eh? The reason one of them would be attracted to one of us is because they can save us and teach us the truth about love.
She just defined monogamous ideals across the board as the fairy tale manipulative machinations of a Harlequin romance novel. If you only want to have one relationship at a time, this must be your drive.
She goes on to say:
Why the hell would a poly person get romantically involved with someone who is clearly monogamous in the first place? The honest answer is something like: hormones, misguided optimism and willful self-delusion, more hormones, and a little emotional masochism
And the only reason one of us would want to date one of them is that we're horny and deluding ourselves. Right. It couldn't possibly be valuing that person, up to and including the way that they love.
Where Matisse goes wrong in painting mono/poly pairings as cowperson/cow is in the expectation that a person of one relational orientation requires the same of their partner. Sometimes that's true, and sometimes that's not. In my case, obviously, it's not. Some folks, in order to be fulfilled, need their partner's to have the same sort of numerical setup that they have. But how I work and what I need from my partner are two different issues.
Think of it like this. I'm starting a band, and I LOVE Black Sabbath. I bring Sabbath's influence to my writing and playing. My bandmates find their inspiration in other places, like Black Flag, Bop and Jesus Freaks like Larry Norman. But we're willing to work together, we're compatible as writers and musicians, and we find unique, beautiful ways to blend our influences.
My buddy, another Sabbath freak, is trying to start up a band too. He found a couple of guys to play with who really believe that Led Zeppelin started heavy metal. My buddy decides to go ahead and start a band with them, even though he can't stand Zeppelin. He figures if he just plays them enough Sabbath, and explains why its so wonderful, he can change their minds.
Which one of these is going to make it past 3 practices?
Now, is it the love of Black Sabbath that dooms bands? No. It's requiring of others what they're not willing to give, and not being up front about that.
In the same way, monogamy isn't the problem in the mono-poly relationships. Those can be done really well. The problem is approaching ANY relationship as a means of changing someone to fit one person's ideals.
It's obvious Matisse doesn't think so. After moving away from the cowperson language, as quoted above, she then goes on to say:
I can promise you, if you're poly and you're involved with someone who's not, once the hot sex cools off and reality sets in, every single problem that occurs in the relationship will somehow devolve to: You're fucking other people.
Suddenly Matisse knows everything there is to know about the workings of every mixed-orientation relationship. She's just guaranteed us all that every mono person in a relationship with a poly person requires that their partner love and fuck only them. There's no room for differentiating between two related but different needs. Matisse knows better than Elizabeth does that Elizabeth HATES me fucking other people.
And that is complete and utter bullshit.
I've respected Matisse's advice in the past. I enjoy the podcast she does with Monk. I read her blog. That's why I'm so waylaid by her sudden lack of nuance. The abruptness of her shift from talking about disrespectful behavior to asserting that behavior exists where it does not makes me angry.
Had she stayed talking about cowfolk, she could have had some useful insights, maybe even helped a few people. That without even seeing it she equated all mono-poly relationships with manipulation and abuse is impossible to overlook and difficult to forgive.
The problem with terrible behavior is the terrible behavior, not the other attributes that the person exhibiting it has.
It turns out, Elizabeth doesn't need to love Black Sabbath the way I do. She's just got to love that I love them. She does, and we make beautiful music together.
12 Responses to "Mistress Matisse Is Just Plain Wrong"
Leave a Reply