Posted by Gabe | Filed under Harlotry, Sexy Vids/Pics, Theory Fuck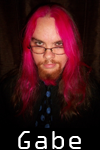 This is the third time I've tried to write this post, as Elizabeth alluded to earlier. It's turning out to be very difficult, both because there's a whole series of related topics that are involved and because the emotions surrounding it are rather strong.
So let me try to list the issues.
1) Boys' bodies are not sexy.
2) Boys are assumed to have good relationships with their own sexuality.
3) Society is geared toward "male sexuality."
4) That "male sexuality" is one dimensional and threatening.
At the very least those are the ones I've been able to isolate. And I'm not sure how to address these systematically, or even how to draw the lines from one to the next, but they bring up the same set of responses in me and thus are intrinsically linked in my experience.
Let me tell you about some of the things that have me thinking about this. First is my general desire for exhibition and the related desire to be found hot. But other things I've been reading have helped me to keep processing this.
Amber Rhea quoted from and linked to this

And for christ's sake don't you even dare talk about taking pole dancing classes and how that's personally empowering for you given your working class, Southern, conservative, Christian upbringing. There are more important things in the world and obviously poverty supercedes that.
I can totally get this. It's like Elizabeth and I were talking about with the attacks on porn focusing on how it damages women, how it leads them to be pressured to be like porn stars. But what about when porn is a tool of liberation? It has been for her. It has been for me. That's why we started making porn. That's why we started this website. Things that we've experienced like others have with the pole dancing classes have been the pictures and video we've released here, Bourbon Street flashing during Mardi Gras, being open and writing and talking about our sexual experiences. Each of those serves as an affirmation of our bodies and of our sexualities. We reclaim the sexuality we were told not to have, not to develop, not to relish, and we put it back in the central place that we feel it deserves in our lives.
And it makes me happy to look around and see more and more venues where people can be seen. What's been especially nice has been what I've perceived as a move toward creating more room for people of varying body types to present themselves as sexual beings, especially for those who have been treated as though their bodies preclude them from being sexual. I'm thinking specifically of online forums like Chubby Parade and of the endless variations of folks in the BDSM scene. But it's not just that. It's the pole dancing classes, or strip aerobics, or even fucking Girls Gone Wild. While there are plenty of limitations there seem to be more and more arenas in which sexuality is seen as a central factor of human existence. And this is fantastic for people like us. We find healing in embracing our sexualities and making them public.
But do you notice that the vast majority of these opportunities are geared toward women? If I lift my kilt on Bourbon Street I'm much more likely to get arrested than if Elizabeth takes off her top. Penises are a threat. They're obscene. No one wants to see that. Some would likely even take issue with my statement that I am told not to have, develop or relish my sexuality. I am a man after all, and all sexuality in the public arena is male centered. But the sexuality I'm allowed to have is predatory, uncaring, based on conquest, selfish. Or else it's based in my own bumbling idiocy because I start to drool and stop thinking every time I see a tit. But to work on a sexuality that is centered in my body and the way I relate to other bodies? There's not even a dialogue around that. Men are assumed by the culture at large to have only one kind of sexuality and anything else is a joke or a lie.
Over at Feministe there's been a discussion going on about Feminist Porn, whether it exists, what it looks like, what it's effects are. It's been remarkably civil. One part of the original post was a list of links to feminist porn sites. The focus of most of these is women producing the porn they want to be in, which is great, but it led some to question who was producing the porn that (hetero or bi) feminist women want to see. In short, where are the naked men?
What about men expressing their desire to sexually please others? What about men reveling in their own beautiful, natural bodies for the enjoyment of others?
…
But for some reason, hetero men don't seem to get the same enjoyment out of taking it off for women that many of the feminist porn producers espouse. I believe they have not been trained to see themselves this way, as women have been trained since birth. An no matter how progressive and gloriously un-photoshopped feminist porn is, it's still women seducing the camera, not men.
And And Sungold says:

Like Friction and Shy and a few others here, I too went looking for the guys. I don't have a problem with the sites KaeLyn listed featuring mostly women. But where are the men?

And I mean *men,* not boys. A couple of these sites do show men. They're quite young. No Fauxxx, for instance, is specifically soliciting male models, but they're calling for "boys."

This might cater to a very small subset of hetero women, but it looks much more like they're following certain conventions in gay porn.

So where, please, is the porn featuring attractive *men*? I don't think we can speak of real feminist porn until there's serious turnabout, with women authorized to enjoy the visual pleasures of adult male bodies on our own terms – to look, as well as be looked at.
These are issues I've been wondering about lately as well, as I've mentioned. I'm one of those guys who does enjoy "taking it off for women," but when I actually try to find ways to do that, then I'm often left feeling stuck, with no models to turn to that actually reflect my sexual reality. What images there are of men for women are of ripped abs, chiseled jaws, eternal five o'clock shadows… Or it's guys taking up close pics of their cocks. (And if you look for images of men for men, then it seems to be most often young, hairless, small guys in horrendously ugly underwear.) So figuring out what to take pictures of and how to present them can be a challenge. And more than that, seeing as we're working from a relatively non-commercial porno model here, once the pictures are taken, how do we find an audience? Are there women out there looking for sex blogs with naked men? Where are they talking about this? Where can I learn about what their drives are and what they want to see.
Because yes, I blog for myself, but if I didn't want to share something of myself with others then I'd just keep a journal and a photo album. And if I didn't want responses I wouldn't allow (or, more accurately, beg for) comments.
Shy comments on "seducing the camera," and I think of the ways that I have been taught to be seductive from this body that I have. They're not about my body. They're about money (expensive dinners, jewelry). They're about wearing, not removing, nice clothes (everyone loves a man in a suit, right?). Sometimes they're about artistic attempts (songs and poems). They're about signifiers surrounding me. As much as women may be reduced to only the sexual uses and desirability of their bodies, men's desirability is so often removed from their bodies. No, I'm not wanting to get into a "who's more damaged" competition. I'm just sharing from my experience.
So where are the men? I think we're wanting to find out what works for us in the expression of our own sexuality, and in communicating that to an appreciative audience. But we can't do it by ourselves. We need to hear from our audience. We need to hear that there is an audience. From the comments I've gotten here, and those I've gotten from friends, the audience is there. If you're part of that audience I'm asking you to chip in, telling us what you find sexy and what you want to see. If you're a guy who wants to be the subject of some boyporn, then tell us about yourself. Put yourself out there to be found.
And to those ends, I'm calling for a monthly (or so) sexy naked nerd boy roundup. And I know I wrote this from the point of view of a hetero guy appealing to women, but that's who I am. This isn't limited to just straight boys, though. I want to see variety. I want to see new ways of being sexy. Anyone male-identified is invited to participate. Post your sexy self all over your blogs, let me know about it (iamthegabe at gmail dot com being the easiest), and I'll gather links to all the posts for the month in one place. If people want to see us, we'll give them an easy way to find us.
Now we just need a catchy name.
43 Responses to "Third Time's a Charm"
Leave a Reply