Posted by Gabe | Filed under Sex Art, Sex Education, Sexy Vids/Pics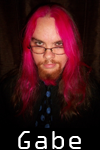 Last night we got together with friends to watch Breasts: A Documentary and Private Dicks: Men Exposed, talk about, and generally enjoy bodies. It was a fantastic time. While sitting around after the movies, my girlfriend Kristi was just staring at my balls, watching them move around on their own, the tiny muscles moving my scrotum around. I have to admit, it's pretty entrancing. Elizabeth has sat and watched it for a while as well. When Kristi said she's never seen any that move as much as mine do, I got the brilliant idea of making a movie of my shifting scrotum.
So what do I do today? I make that movie!
Twenty minutes of laying as still as I could comfortably manage with the camera trained on my crotch. Now, I know no one but the three of us wants to stare at my crotch for that long, so by speeding up the video I'm not only saving you time, but also showing the movements in a much more dramatic way.
I want to thank Aquaboogie and Kahvi Collective for releasing the wonderful "Intensive Care" under Creative Commons, allowing me to use it as the score for this film. I thought they went wonderfully together.
With all that said, I finally present to you Even At Rest for download.

Even At Rest by Gabe is licensed under a Creative Commons Attribution-NonCommercial-ShareAlike 3.0 Unported License.
4 Responses to "Even At Rest"
Leave a Reply