Posted by Gabe | Filed under 30 Days, Kink
The questions for "30 Days of Kink" can be found here. Play along at home! We'd love to see your answers here or on your own blog.
Day 7: What's your favorite toy?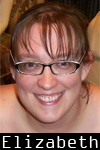 Elizabeth: One of the things I learned as we started our porn blog is that I don't have a high level of hunger for sex toys, lol. Sure, I had my trusty Adam dildo from Good Vibes, who was a steady companion in my single days. And Gabe and I fell in love with Flexi Felix anal beads from Fun Factory the first time we used them. I like pegging, so I like my strap-ons and harnesses, though they're not perfect. As a bottom, I have varying emotional relationships to Gabe's implements of destruction. And now that I top, I am collecting items that give intriguing sensations. But toys have generally been a means to an end for me. Whatever's handy is what we use. I'm probably more emotionally connected to the lube we use (recently ID's silicone lube has been our standby, with Astroglide pinch-hitting when there's a silicone toy involved).
---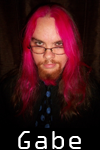 Gabe: If you felt how damned heavy my toy bag is, you'd know how tough I find it to pick a favorite. My shorter, thicker nylon rope flogger is a favorite, as is my crop. I have such an affinity for my homemade toys (like the aforementioned flogger), whether they're as simple as rice filling a tube sock or as fabulous as my discostick (a black, glittery mini baseball bat). For what I like to be on the receiving end of, I adore Fun Factory's FlexiFelix and this one soft, fuzzy scarf of Elizabeth's. I also like my Fleshlight quite a bit, even if I don't use it often. Oh! And Eliz has this delightful, small, pink Tantus cock that feels fantastic in my ass.
Leave a Reply