Posted by Gabe | Filed under Embodiment, Harlotry, Kink, Spirit Work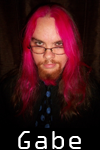 Someone recently started a thread on FetLife title "reconciling faith and kink." I thought my response was telling enough about what it is we do that it merited sharing here.
---
I can't tell you how to find the wholeness you seek, but I can share parts of my own story.
I am a Christian, as are both of my girls. I don't know how traditional most would consider us (Christianity is 2000 years old and contains within it a lot of traditions, yet most often when I see "traditional" used in the context of Christianity it's in reference to modern Evangelical Christianity, which is just not all that old), but what we do works for us.
I believe that God was so in love with his creation that he became a part of it, that his Logos was one with a 1st century Palestinian Jewish man. In him is the most complete revelation of God. The Word is Jesus himself, and everything must be seen in his light. This includes the scriptures. As much as they tell us about Christ, Christ must tell us about them as well. This hinges, of course, on believing that God is still moving and communicating in the world today, that Christ is active and alive and a part of the world around us.
I don't believe that Jesus gave us a sexual ethic to which we should adhere. He gave us an ethic of love and that ethic can be applied to our sexual lives. God has, time and again, shown us his value of these bodies. He created us not as souls inhabiting a shell, but as bodies filled with his own breath. Flesh was so beloved by the creator that he became flesh. Our bodies are beautiful, holy things. Our loves, our passions and our desires are gifts from the creator that blessed flesh in its creation. So then our bodies are not to be overcome, our desires not to be held as corrupt. Instead we look at how we can best listen to those desires and treat those bodies within the ethic of love given to us by God incarnate.
For me that starts with recognizing each person as a loved child and creation of God, as well as a reflection of God himself, and an equal to an inextricably linked to me. ("Truly I tell you, just as you did it to one of the least of these who are members of my family, you did it to me." and "We, who are many, are one body in Christ, and individually we are members one of another.") From that, I honor the person as a unique creation and reflection of the Lord. As the voice said in Peter's vision, "What God has made clean, you must not call profane."
So in any interaction I do not ask myself "Am I holding to the proper list of do's and don'ts?" I ask, "Am I treating this body as sacred, blessed by the creator and of worth equal to or surpassing my own?" If I can answer that with an unqualified "Yes" then I am acting in the ethic given me by Christ.
Leave a Reply