Posted by Gabe | Filed under Kink, Random Ramblings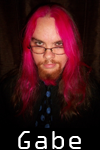 A couple of the fetishes on my list are things like consent, yes means yes and only yes means yes. These are big deals to me. In fact, they're probably my only dealbreaker fetishes. I suppose that makes consent the only true fetish I've got. It is the one thing I absolutely must have in order to play with someone.
Because of this consent fetish, there may be a long time between expressing interest in someone and actually playing with them. Before I can do anything, I have to feel comfortable that the consent that's given is fully informed and enthusiastic. That means talking about what consent means to us, talking about what exactly we do and do not want to do, talking about values, desires, expectations, demands. It means making sure that consent is not just an absence of "no," but the enthusiastic presence of "yes."
This can make things complicated. It means I won't play with anyone who can't or won't have an open, direct conversation about what they want and need. It means that if someone prefers to communicate in hints and flirtations to the exclusion of directness, we're not going to be able to do anything together.
Consent, to me, is so much more than negotiating and honoring safewords. It's about getting to a point where I trust the negotiations are free from coercion. It's about trusting that if consent changes or is revoked in the midst of a scene, that such will be communicated.
I see a world around me in which consent is not valued. Some people are socialized to accept that things are taken from them and others are socialized to take. Some are told to never say "No" and others are told to never take "no" for an answer. Women are often expected to, among other things, rebuff sexual advances even if they welcome them, and to welcome them even if they do not want them. We're surrounded by a million cultural forces telling us what we should do, bending our will. Because of this, consent is a goal to reach under quite strained circumstances. If I'm going to tie you up, spank you, set you on fire, fuck you or engage in any other such delights, I need to know that the "Yes" I get from you is a yes that you mean, not one that you have given under duress, or because you're expected to, or because you just figure you oughta. That's what I mean by "Only yes means yes."
It often feels to me that, despite all the focus kinksters put on consent and negotiation, there's very little addressing how to do those things without coercion. Kinky settings can often lead to an expectation of availability. Just look at how many submissive women have to say things like "I'm a submissive, not your submissive." There's an expectation amongst enough folks that if you're at a party, at a munch, on FetLife, open about being kinky, that you're fair game because, hey, you can always say "No," right? None of that takes into account social pressures, the conditioning that some people have to say "Yes," the subtle ways that people can be coerced, or the effects of an expectation of availability. That's why I like "only yes means yes" as a starting point. It's not enough that someone can say no, that they can reject advances, that they can use their safeword if they need to. A panic button isn't enough for me to call a situation consensual.
So I may go slow. I'll likely ask very specific questions. I'll assume that if we come to a consensual arrangement, that the consent is specific to that time, that place and those specified activities. Instead of saying "If you're not comfortable tell me, and we'll stop," I'll say something like "Are you comfortable with insert specific thing?" and I'll stop unless I get a clearly affirmative answer.
Some folks think that asking for permission isn't sexy. I think that it's what makes what comes next sexy. You know how many times I've asked "Can I kiss you?" I've not yet had anyone who didn't appreciate being asked. You think it's not sexy to get a bottom's permission before each new thing? You whisper in someone's ear "I want to do X to you. Do you want that?" and have them repeat back to you what they want you to do and then tell me that's not hot.
I spent most of my formative young adult years in an emotionally abusive relationship. I had to learn a lot of this shit the hard way, and I know I hurt some folks along the way in doing so. This is what it takes for me to be happy. This is what it takes for me to trust that someone's yes is undoubtedly a yes. This is the best understanding I can get of what it means to negotiate the things we do when we live in a world infused at every turn by patriarchy, by kyriarchy. I love playing with power, but when power is so unbalanced in the world, and so abused, it takes a very serious, deep approach to consent for me to play with power in a safe, useful, respectful and feminist way.
One Response to "I have a consent fetish"
Lily Says:
April 24th, 2012 at 10:29 am

I love this piece.

I love this piece because I really do believe that a top's consent is as important as a bottom's consent — but it's talked about far less often.

One of the things that's required to gain my consent to top someone is the feeling that I have enough knowledge to understand that what I'm doing to them is what they really, really want, and that it won't harm them. And that generally means actual words have to come out of the bottom's actual mouth.

Some people, even kinky people, are surprisingly squeamish about their own desires, and that turns into fetishizing a romantic, psychic, uber-dom who will sweep them away and ravish them without them ever having to do that pesky self-examination of their own desires and *blush* expressing it to another person.

Have they ever looked at that fantasy from the top's point of view? Any reasonable or ethical top would be pretty uncertain or hesitant (at which point the I Want The Psychic Uber Dom sub promptly decides that their hesitation isn't prudence but instead evidence that they are not a Twue Dominant).
Leave a Reply